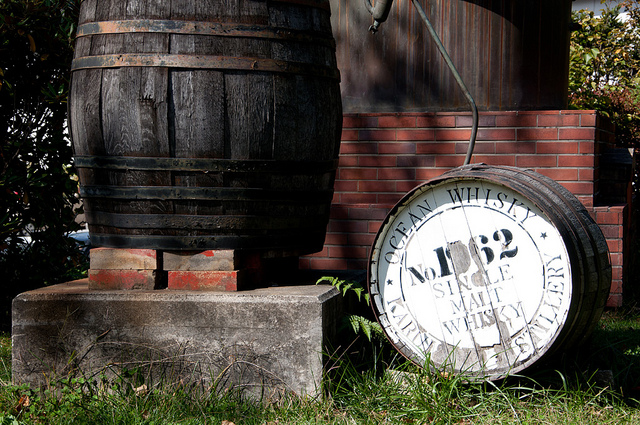 Some readers will be familiar with this topic possibly through debate on a whisky forum or posts from a blog etc. Here I throw my 2 cents worth in. In an article posted on The Whisky Exchange Website last year, it was 'observed' by the writer that there were about 200 casks of Karuizawa stored in a warehouse at the Chichibu distillery. It was certainly hinted at quite strongly by the writer, that, this was all that was left over of the remaining stock after Karuizawa was closed and it was this number that was purchased by Number One Drinks Company, not withstanding they may have bottled a few casks in the interim.
So let's go with that number for now. Since that article was written, 77 casks were vatted for the Spirit of Asama Bottling's, seriously, how did that name ever make it onto a whisky label, but I digress. That leaves 123 casks. In the last 12 months there was also 3 multi-cask bottling's that I can recall, one a vatting of 4 casks, the others contained vattings of 2 casks each. Now we have 115 casks of Karuizawa. By my calculations there has been at least 20 other single cask bottling's released for the UK, Europe, Taiwan and Japan since the article. Don't believe me? Japan alone has had at least seven single casks of Karuizawa bottled for their market alone since that time and that is not including the multi-cask bottling's I have mentioned. Down to around 95 casks.
I know that there is already 4 single casks to be released this year, 2 for the US, one for Japan and the oldest Karuizawa bottling. Now 91 and counting. So what if the current yearly rate of bottling continues unabated? We are talking about no more Karuizawa casks left to be bottled after 5 years from now. The other thing to be considered is, are all the remaining Karuizawa good enough to be bottled as singles? If not, that would mean more multi-casks diminishing the remaining stocks even faster. Consider this also, can a liquor company survive on only bottling 5 casks a year? That would obviously slow down that rate of decline. Maybe if you can sell them for $250,000 a cask profit. Or, maybe if your other business interests now become your major earner and bottling Karuizawa a side show? Maybe more bottling's of Hanyu/Chichibu that Number One Drinks also distributes to pick up the slack? We will certainly get a better idea over the next 12-18 months. In the meanwhile, millionaire whisky collectors get your cheque books ready, it's going to be an expensive ride. The majority of us will have to be content just to sit back and watch.
UPDATE 15/3/2012: Please read TimF from TWE's comment re the Asama bottling's.