This was the second time I had visited this whisky bar in Kuala Lumpur Malaysia. The Whisky Bar KL stocks many a Scottish whisky of course, as well as Irish, American(Bourbon) and a small collection of Japanese whiskies. According to their website about 275 different bottling's in total.
On our first visit we took a whisky novice from  Australia we made friends with at our hotel and we opted for the Japanese whisky tasting set. A nice introduction to a few Japanese standards for someone who had never tasted Japanese whisky before.
On my second visit I was looking for something a little more exotic. After checking out their list of Japanese whiskies online I was looking forward to the following. Hakushu 25, Yamazaki 25, Yamazaki 1984 and Hibiki 30. Now, we had lined up dinner with our friends from OZ who were with us in KL at a restaurant directly across the street which I believe is owned by the same guy as the Whisky Bar. So ordered dinner and I decided to duck over to scope out the whisky offerings I had picked while we waited to be served. This is when it all got a little bit bizarre.
They had no Hibiki 30, which by the way still shows on their current website even though I was told it would be removed to reflect this. I asked about Yamazaki 25, no couldn't have, even though there was a bottle. Yes there was a bottle of Hakushu 25, so yes, no problem and no, no 1984 Yamazaki at all. I went back to the restaurant resigned and a little disappointed at my lot.
After dinner everyone else took off to the night market and I went back over to the bar. This time with a different staff member. Yes there was a Yamazaki 1984 and I could try, yes they had the Hakushu 25 but the bottle wasn't open and they weren't about to for me, too expensive and what if no one else bought a dram, and yes, after I mentioned I wrote about Japanese whisky, they poured me a dram from the already open bottle of Yamazaki 25. Strange and confusing especially when I was spending almost $300 on 3 drams(had a Yama 18 as well).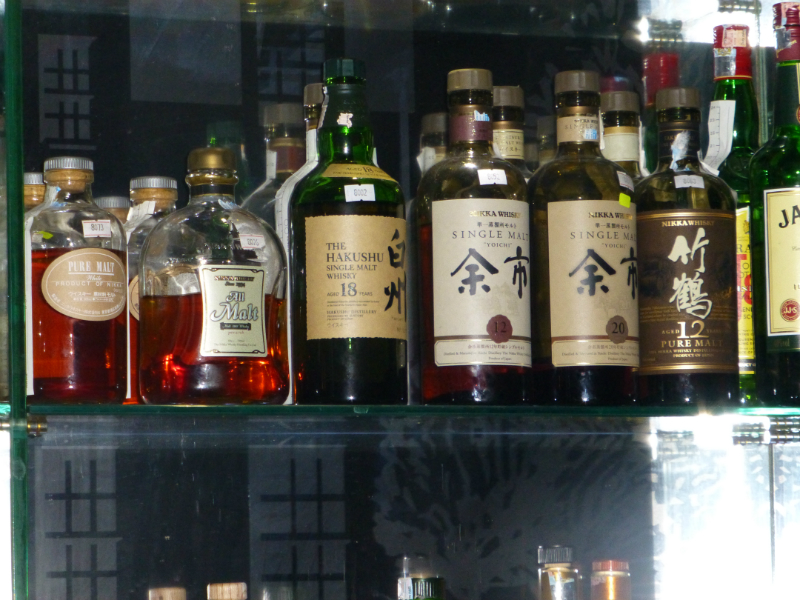 At any rate the fact is they do have some Japanese whisky in stock. There is also a few not shown on the online menu such as Nikka Pure Malt White, All Malt, Taketsuru 12, Yoichi 12 and 20. So if you live in Kuala Lumpur and have never tried Japanese Whisky, or, are passing through KL and hankering for a dram, this really is the only game in town. Just be prepared from some weird interactions with the staff.
*This report from a visit in November 2012.