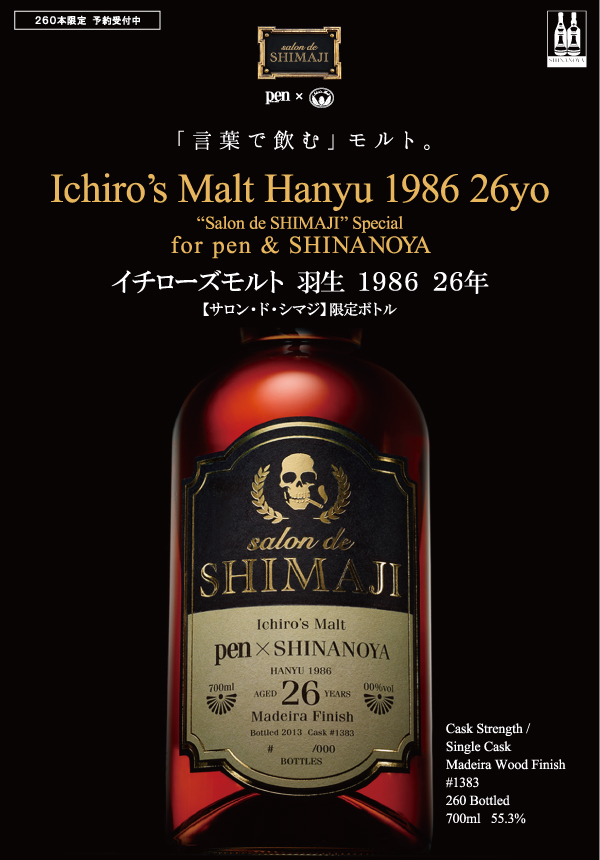 You'll see in this post a picture of the latest collaboration between Ichiro Akuto of Venture Whiskies(Hanyu/Chichibu) and Shinanoya a liquor/fine food chain based in Japan. It is a 1986 26YO Hanyu finished in Madeira wood, bottled at cask strength with an outrun or 260 bottle's. It's official release was the 25th of April this year and I'm not sure it even made it to retail shelves before it sold. Places like this often advertise the product with the release date and those in the know and the coin to pay for this sort of gear, have already pre ordered. So why is this a relative knew phenomenon with Japanese whisky in Japan, not the ability to pre order, the fact that they are now doing it. In other words, the Japanese now have a growing appreciation of their home grown high end whisky.
When I first came to Japan 4 years ago, the first retail liquor store I visited was Shinanoya Shinjuku branch. They had 2 Owners Cask bottling's from Suntory and Ichiro's Malt The Game 1st Edition. I bought one of the Owners Cask Hakushu. I came back 6 months later and the other 2 bottling's were still in stock, so I grabbed them. Nowadays something like Ichiro's Malt the Game would pre sell before hitting the shelf. Not only that, it cost Y7900.
So, I get emails asking me to suggest places to buy Japanese whisky from people overseas travelling to Japan. When they turn up, mostly they can only find the standards, not the single cask stuff they read about on TJW Review.
So the local Japanese whisky appreciation scene has grown markedly in just 4 years, this often leaves 'only' the standard stuff for whisky fans from other countries when they come a knockin' for the good stuff when they get here. As I wrote in the heading, herein lies the problem, at least with buying much of the good stuff from Japan when you don't live here.