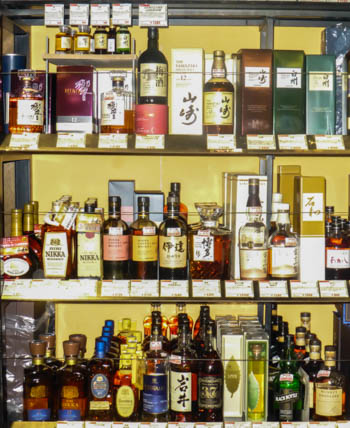 We'll consider this as a bit of a follow up to my post Japanese Whisky "Where To From Here". So, first time back in Tokyo in a couple of years starting last Friday night(we were in Osaka about 18 months ago) and on the following day I hit the ground running as soon as the stores opened at 10am. Now I'm not going to tell you I went to every store I could possibly find in Tokyo. If you've been to Tokyo you know that would be logistically tougher than a manned mission to Mars. The places I did go to however, were, and you'll see very soon why I write "were" very reliable sources to buy Japanese whisky.
So with my trusty notebook in hand I started at Takashimaya Shinjuku. I'll keep it straight forward and list what I found at each place. Hibiki Harmony NAS, The Nikka Blended Whisky 12YO, Hibiki 12 and 17 mini bottles and Yamazaki 12 mini bottles………..Yep that was it!. But wait there's more(to the story). When I went back a couple of days later The Nikka Blended Whisky 12YO and the Hibiki 17 and Yamazaki Mini bottles were all sold. Quickly checked on our last day and that status quo remained. I certainly didn't get writers cramp from listing those.
Next over to Isetan Shinjuku and mind you the last time I was there we are talking about single cask Yamazaki and Hakushu, Hanyu, Karuizawa, Chichibu, the standard single malt ranges and more. This time, Mars Blended Whisky 46%, Nikka Coffey Malt and Coffey Grain NAS, Suntory Kakubin and Suntory Premium Blends, Hakushu 12, Kirin 18, Hibiki Harmony NAS and the one for the Billionaires, Nikka 40YO. Phew, at this rate I'll definitely be done with my research by lunch time.
Shinanoya Shinjuku/Kabukicho – A bit more range not but nothing really special. Nikka Pure Malt NAS, Kirin 18 YO, Hibiki Harmony, Mars Iwai Tradition, Mars Twin Alps, Mars 3 & 7, Kirin 50% NAS, Suntory White, Black and Yellow(Kakubin) blends, Nikka Super, Nikka Black Clear, Nikka All Malt, Nikka HiHi and Nikka Gold & Gold Blends, Suntory Royal NAS, Suntory Old(not really old) and Suntory Special reserve NAS, Ichiro's Malt Double Distilleries 200ml, Nikka Malt 100, Hakushu and Yamazaki Distillers Reserve, Miyagikyo Date and Kirin Robert Brown Deluxe Blend. Ah, for the good old days when Ichiro's Malt the Game 1st Edition sat on these very shelves for a year at about 7000 yen.
I'm not sure of the name of the next store or the name of the building but it is on level 3 of the building next corner past the BIC Camera in the Odayku Department store Shinjuku. I was there on a different day and I didn't have my note book, can't remember any single malts but they did have Hibiki 12 and 17 YO. WooHoo!
The Bic Camera on the East Side of Shinjuku Station heading towards Isetan had about 4 bottles, I think the highlight was the very rare Yamazaki 12. I would say that was sarcasm but in Japan Yamazaki 12 is hard to come by in stores.
The best of the lot would have been Liquors Hasegawa at Tokyo Station. There are 2 branches at the station and I'm speaking about the Main Branch. This was the only store that had 3 single Malts, Yamazaki 12, Yoichi 10 and Kirin 18YO. They also had Hibiki 12 and 17YO. The Nikka Blend 12YO and Malt 100. The only store that had some Akashi as well. The picture attached is from Liquors Hasegawa so you get the idea. Unfortunately you can't see the Yoichi 10 as it's on the shelf below the bottom of the picture. All up I'd say about 25 different Japanese whisky but again, I remember Karuizawa Single Cask Japanese release sitting on these shelves gathering dust and some selling for under 10,000 yen.
Last though not quite least, Takashimaya taking that unenviable prize, Tokyo Narita Airport. Now Narita always had a pretty soft offer of any whisky from any region. There is a new terminal, terminal 3 and this is the one I'm talking about specifically though I doubt the others are any better. I'll start with Nikka, they sell Taketsuru 17, 21 and 25, all sold out. Then there is Suntory's "Travel Exclusives" basically the same contents with a flash label. So, instead of paying 18000 yen or so for Yamazaki 18, drum roll please, you get to pay 50000 yen for the fancy label! Hibiki 21 is the same price and there are about half a dozen bottling's with same sort of mark up. Rich gullible tourists step right up!
I'm sure many readers would have seen those Nat Geo documentaries about the army ants in Central and South America, the ones that file through the jungle on mass leaving nothing but desolation and destruction in their wake. Well the human version has been to Japan and left the same sort of desolation in regards to Japanese whisky. There is no doubt that the Japanese have finally caught on to the fact that they can make high quality whisky and are buying more than ever. Taiwan is also a very strong market and I'm sure many a Taiwanese whisky enthusiast has made their way to Tokyo on a buying spree, but I will tell you a story told to me by Horigami san the owner of Zoetrope Bar in Shinjuku. Now this is a guy how has done more than most to promote Japanese Whiskey and his Bar is still by far the best place in Japan to try a huge variety of rare Japanese whisky. There was a new Chichibu being released at Isetan Department Store Shinjuku. Horigami san waited at the doors to go and buy some but by the time he got downstairs to the liquor department Chinese Customers had managed to get in through another entrance and bought every bottle. Horigami san also mentioned the Bonham's rare whisky auctions run out of Hong Kong. Now I've seen the prices for Japanese whisky at these auctions and they are astronomical. Not just single cask stuff, but I've seen bottles you can, or more to the point could, have bought in Japan for 10-20 bucks sell for hundreds. I was told by a Hong Kong based Japanese Whiskey enthusiast a couple of years back that it was folks from mainland China who come over to HK all cashed up and for the most part without a clue as to what they are buying who are paying these big bucks. So, why not a quick flight over to Japan and strip the shelves and the distilleries clean knowing you can make a handy profit? This is a theme you will read about in many another blog post so I'm sure there is a lot of merit to it.
So what now? Well as a point of fact there is no point for any foreigner to come to Japan in search of Japanese whisky. You will in many countries almost certainly find a better offering at home and if not, one of the online retailers. You can still find some bars that have a good range of stuff to try but don't come just to buy. Hey, if you're a Scottish whisky fan, or a Bourbon fan, or even Rum or Tequila(I've seem stuff in Japan I haven't even read about on Tequila.net), by all means bring some spending money. The Japanese get their own exclusive bottlings as well.
I will add that it makes perfect sense that companies like Nikka and Suntory will send a lot of their premium bottlings to overseas markets. Sure they were caught out by not reading how popular they would be and distilling enough product years ago, but now the hook is in you wouldn't just pull back out of those markets and say we'll get back to you in 5 years or so. You have to be able to keep supplying these markets until there is more mature stock, even if the domestic market has to suffer a little. I mention 5 years because again when talking to Horigami san of Zoetrope bar, this was the number of years ago he said the distilleries decided they better get a production wriggle on. So, it's going to take a number of years but we should see plenty of Japanese single malts back on the shelves in Japan down the track as well as the return of single casks from the big players and older stock from Chichibu and Mars. One benefit of the drought is players like Mars, Chichibu and Akashi have a lot more confidence about producing whiskey and knowing there will be a ready market, eager and willing to buy and that's got to be a good thing.