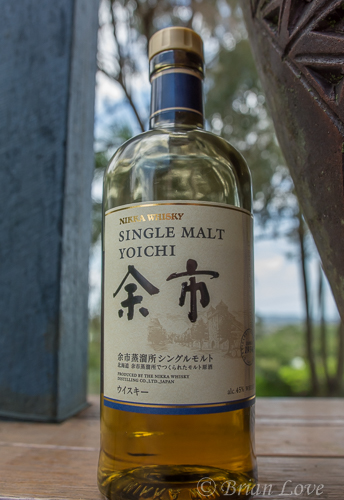 Nose: Mixed nuts, toffee, apricots, peaches, malt. Quite a light nose.
Palate: Mixed nuts, peanut butter, ginger, cola, oak, leather, a little rhubarb, menthol. Oily mouth feel.
Finish: Short on the mixed nuts, peanut butter, leather, rhubarb and menthol.
Last Word: The quality of the spirit is there no doubt. Nothing cheap or nasty about it though it's not particularly complex. This whisky has a big problem though, it's not very Yoichi. Where's the peat, the maritime notes and flavors, the lovely smoke that magically appears after a number of seconds then rolls around the palate and compliments the usual stone fruits? Doesn't have that bubblegum thing that's often found in Nikka/Yoichi whisky either. Come on Nikka, if this is going to be the staple Yoichi single malt for the foreseeable future, lovers of Yoichi whisky deserve a whisky that truly represents the style we have come to expect from that great distillery.
Rating: 80/100 as a single malt whisky, 78/100 as a Yoichi whisky