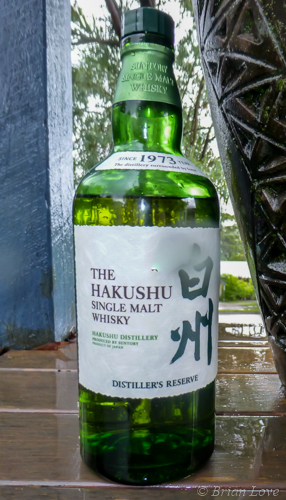 Nose: Light and crisp. Pear slices, lemons, grapefruit, moss/wet forest, a little acetone.
Palate: Crisp and clean. A little oily, pears, almonds, nougat, cloves, pepper, wet moss.
Finish: Short on pears, cloves and pepper.
Last Word: Some of the Hakushu distillery profile is there such as crisp mountain spring water, earthiness and pepper. The palate however lacks enough satisfying body and complexity and the finish is very short. Where is the nicely integrated peat I would normally expect? I've tried several bottles of this and have always been left underwhelmed. Not a patch on the 12YO which I poured a dram of to taste side by side.
Rating: 80/100 only because the base spirit itself was distilled with obvious care.