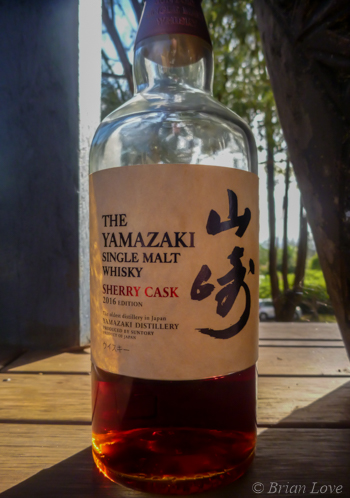 Nose: No surprises if you have nosed a good Yamazaki Sherry Cask matured whisky. Dark cherries, tinned plums, blueberries, cherry ripe chocolate, caramelized orange jus, raisins, molasses, mint chocolate. Not a heavy hitting nose but really top notch none the less and continues to improve as it opens up with time.
Palate: Chocolate coated coffee beans, raisins, Brazil nuts, caramelized orange jus, cloves, salt, pistachio nougat. Balance is good but I would prefer a little more mouth coating rich fruitiness.
Finish: Some drying oak, cloves and lingers on the bittersweet chocolate coated coffee beans. Short, or more to the point not a lot of power in the length. Still, one you would have memories of the finish the following day.
Last Word: I've seen these sell at auction for around 2000 British Pounds recently. In reality, worth about the the original retail price of USD$300. If your going to spend that sort of money or even half as much I'd be going for one of the Single Cask Yamazaki Sherry Butt whiskies. The nose is the highlight.
Rating: 88/100