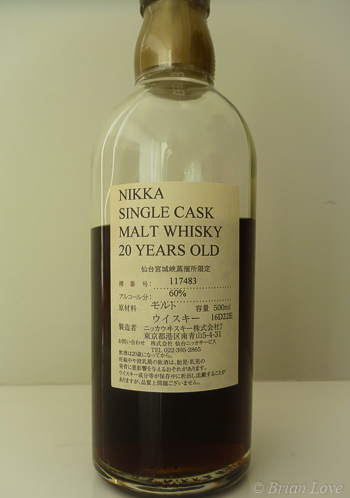 Nose: Big rich sherry for sure. The usual suspects of raisins, prunes, dates, cherries, Christmas cake,caramelized orange juice. Also treacle, nutmeg, paprika, white pepper, black tea, pine, dark chocolate, licorice and old leather. For mine, a great sherry cask nose.
Palate: Again rich with well controlled oak. Nicely balanced bitter and sweet. Follows the nose closely but there is also, walnuts, Brazil nuts and peanuts.
Finish: Is long and fruity with some pine, menthol and tannins.
Last Word: Miyagikyo whisky is mostly thought of as light/soft/delicate. Try one of their single cask whiskies and you will discover how robust and interesting they can be. For myself this is a highly underrated distillery. With prices somewhat less that the Japanese big four, Karuizawa, Hanyu, Yamazaki and Yoichi, jump in and grab some Miyagikyo Single Cask Whisky while the going is still relatively good.
Rating: 92/100