Our tour of the Chichibu Distillery covered the end to end process of making Chichibu Whisky. There are other whisky blog posts that have previously explained this process so I won't cover this myself but I would encourage you to do a net search if you are interested in those finer details of Chichibu whisky production.
The following are simply facts that I personally found of interest or just my own musings.
Chichibu Distillery employs 20 dedicated and friendly staff. All are residents of the nearby Chichibu Town. No experience necessary, what is required is a strong work ethic and a passion to be a part of Ichiro's Akuto's vision for Chichibu Whisky. Most if not all employees approached Ichiro san directly to join the business, not from positions that were advertised.
Workers at the distillery consider it to be artisanal and are proud of the traditional hands on production methods. If you start in one area of whisky production, over time you will have opportunities to learn all areas of whisky production. Our guide for the tour Soma, has 8 years with the business and is one such employee who can now cover any area of production.
Chichibu currently produces 60,000 litres of Single Malt Whisky and bottles approximately 105,000 litres of whisky when the grain whisky from other countries is added for the blends.
The unique Mizunara washbacks were made by a company owned by an old school mate of Ichiro san. The wort does not spend enough time in the washbacks for any Mizunara flavors to be imparted, but the folks at Chichibu believe the bacteria that thrives inside the Mizunara Oak imbues the wort with certain qualities essential to the Chichibu house style. Chichibu Peated Malt is peated to 50PPM. They currently use 10% local barley but if possible will over time increase this to 100% local barley.
The onsite warehouse for barrel storage has a capacity of 1500 barrels and currently holds around 1100. Barrels are not rotated from top to bottom or vice versa so each has to be monitored very carefully due to the temperature variations from floor to ceiling.
Temperatures in Chichibu can range from +40C in summer to -10C in winter speeding up the maturation process considerably.
A myriad of cask types are used including ex shochu, tequila, rum, wine (both red and white) and french and local, beer, sherry, and Mizunara(Japanese Oak) casks coopered on site and chosen in person by Ichiro san and some of the employees, from Hokkaido Mizunara Oak trees.
The barrels used in the 2017 Limited release IPA cask finish started life with Chichibu whisky as the contents. The brewery wanted ex whisky barrels to store some of their beer so as to impart some whiskies flavors. Barrels from Chichibu were sent to the brewery and once the beer was bottled, they were sent back to Chichibu to further mature some Chichibu Single Malt Whisky.
The blend of the standard White Label Ichiro's Malt & Grain contains whisky from 5 countries, Japan, US, Scotland, UK and Ireland. The premium versions of the Malt & Grain are basically blended from whisky from the same countries but matured for a longer period of time.
There are still some casks of Kawasaki Single Grain Whisky (I saw a few in the warehouse) and Hanyu Single Malt Whisky. Despite my light hearted pleading to Soma who ran our tour and Yumi the Chichibu Brand Manager, they both politely declined to tell me the number of casks, only that it was definitely a smallish quantity. Although ultimately a business that needs to make a profit, I personally hope that Ichiro san keeps at least 1 cask of both Kawasaki and Hanyu un-bottled for posterity's sake.
Ichiro san maintains a relentless schedule that includes the overall running of the distillery and chief blender, attending trade shows, travelling the world choosing casks and whisky for blending from other distilleries and choosing the Mizunara Oak for barrels. My impression is that he could teach university classes on business networking.
At the end of the tour we were given the opportunity to taste a number of Chichibu Whiskies including three different Single Cask Chichibu only available at the distillery. A very solid bourbon cask, an interesting in a great way white wine cask and the highlight, a mizunara cask. Every one was a 90 point whisky in my book. All were very approachable even at more than 60%abv highlighting the quality of the distillation.
My only previous experience with whisky solely matured in Mizunara oak is from Yamazaki. The Yamazaki were delicate and elegant whiskies. The Chichibu was bold by comparison and I would have to say the most impressive I've tried. If you have read about the flavor profile that Mizunara Oak can impart incense/sandalwood/Japanese temples/coconut, this one has it in spades and a whole lot more going on as well. Unique and quite glorious, and when some day these are bottled for the general public will be absolute gold! These three were also the oldest Chichibu I have tasted at over 9 years old. If you think some of the young Chichibu are impressive we are all in for a treat when there is a 10 year old age statement Chichibu.
Speaking of which, I was advised by Soma that we may see some single cask 10 year old private Chichibu bottlings within the next year and the plan is for a 10YO age statement Chichibu to be released in 2020 to celebrate the Tokyo Olympic Games.
In 2019 a second Chichibu distillery is being built a few minutes from the original. It will be 5 times the size of the current distillery. Soma joked if they will be required to label the bottles as Blended Malt Whisky because even though close, both distilleries are not on the same site.
Finally I wish to thank Chichibu Brand Ambassador Yumi for facilitating our visit to the distillery, our expert guide Soma and of course Ichiro Akuto who bravely turned a dream into reality and the Whisky of World is a much richer place for it!
The traditional pagoda.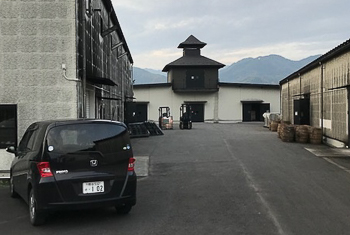 One of two Forthys copper pots stills.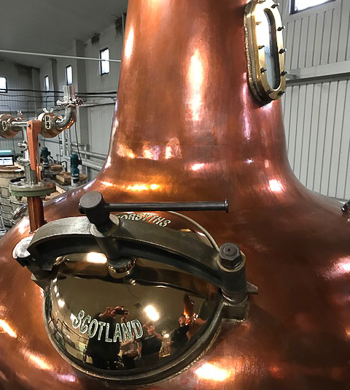 Whisky stillman selecting the cut of head, heart and tails of the distillate.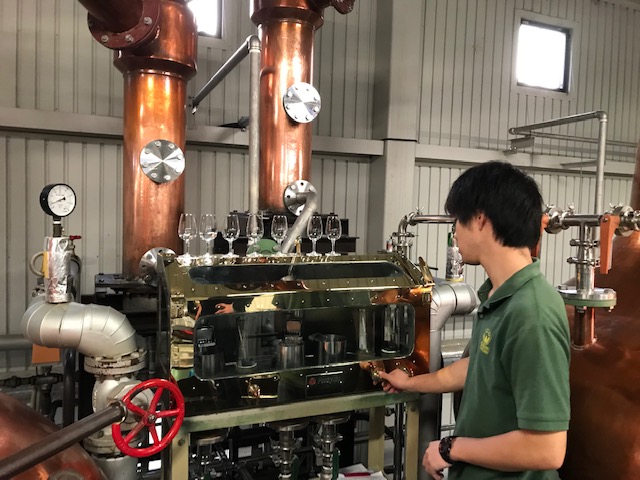 Bottling, labeling and packing Chichibu style. With certain limited releases labels are still applied by hand.
Mizunara Oak Washbacks.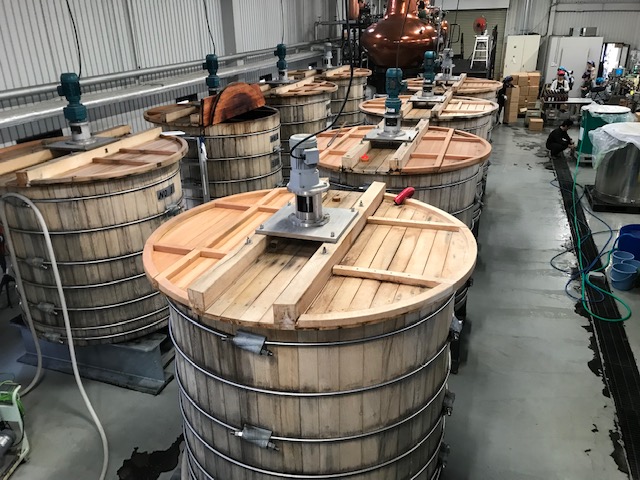 Barrels full of Chichibu Whisky goodness.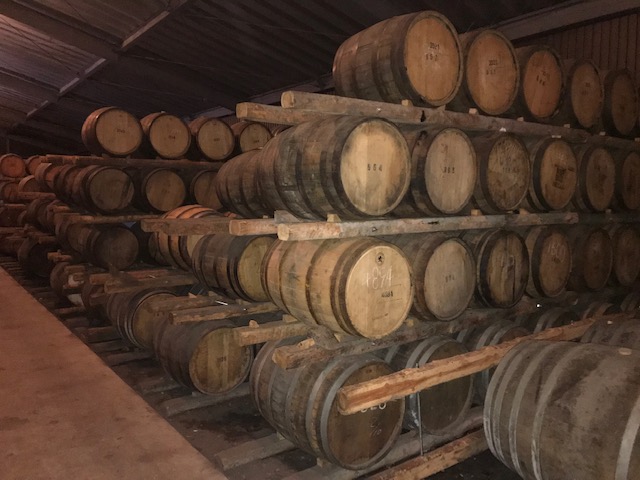 Yep, even Ichiro's Malt & Grain gelato can be had at Chichibu Station. Of course I had one!