(click header to return to home page)
Hi I'm Brian. I was born in 1964 in Sydney Australia and currently reside in Brisbane Queensland with Nicole, my partner since 2004, and our bouncing baby boy Dexter the Bullmastiff (named after the character from the TV series).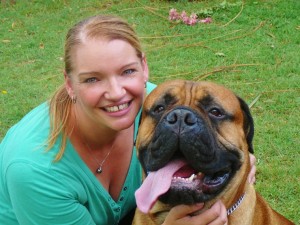 My first Japanese whisky was tasted at Shot Bar Zoetrope Tokyo in May 2009. I had always wanted to travel to Japan so it was definitely the horse before the cart. I had begun drinking Scottish single malt whisky a few years earlier and thought I would try the Japanese stuff while in Japan for no more than novelty value. I realised immediately that Japanese whisky was in fact not a second grade novelty act to Scottish whisky but an exciting, mysterious and more often than not a beautifully crafted companion to whiskies produced elsewhere in the world. In time, I also found that it was not just a boutique industry but a whole new whisky universe just waiting to be discovered. This whole 'other universe' is the reason why I devote 99% of my whisky buying/drinking/study time to Japanese whisky. In this case I would prefer to be master of one than Jack of all, though I would hardly call myself an expert in Japanese whisky. Actually to call oneself perfect in any aspect of life and learning would not be the Japanese way.
I have always preferred to take notes from drams poured from full bottles that I own, but as time goes by it is becoming increasingly obvious that this is not always viable. Mainly due to the cost factor as I can't afford all these $300 plus bottlings, so I will be adding more notes for drams had at some of the bars I visit. I will indicate whether any particular tasting notes are from full bottles or samples but the photos will more often than not tell the story. Where I don't believe you need to have been to Japan to appreciate Japanese whisky, I do believe that it is necessary to go there sometime to truelly understand what makes Japanese whisky unique. This is not just about going to the distilleries, it's the connection between Japanese culture and Japanese whisky. In my opinion these cannot be seperated.
What is going to be the focus of this blog? Obviously it will be tasting, because this stuff was made to be drunk, but it will also be an historical record of rare Japanese whiskies that offers news and a one-stop shop of where to buy and taste Japanese whisky from around the world.
My other passion is travel, which I've been enjoying for 28 years. I have been to over 50 countries, many on multiple occasions.
I have been to every continent and have seen both the Arctic and Antarctic from the air. My two favourite countries to travel to are Argentina and Japan (with or without whisky).