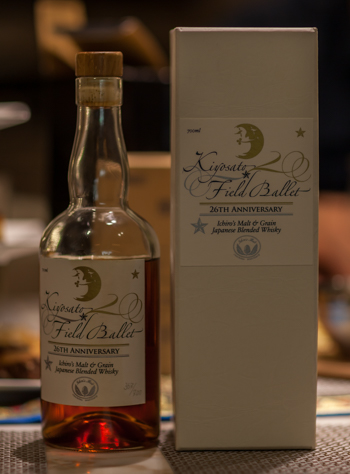 Nose: Earthy, licorice, molasses, fruity notes from a well aged rum, leather, tobacco, lapsang souchong. If you can call a nose smooth this is smooth.
Palate: Again the long aged rum is prevalent but not overwhelming. Caramelised orange juice, tobacco, leather, lapsang souchong, mixed herbs, ginger heat, salt. Well balanced, interesting, tasty and with no rough edges whatsoever.
Finish: Leather, tobacco, tar, pine, molasses and coconut.
Last Word: I've tasted a number of Ichiro's Malt and Grain bottling's and this one is a stand out! Not cheap, but if you have the readies this is a highly recommended whisky and better than the majority of Ichiro's Card Series I've tasted.
Rating: 92/100
Note: A blend of 25YO Hanyu Single Malt from 1990 and 33YO Kawasaki Single Grain from 1982.