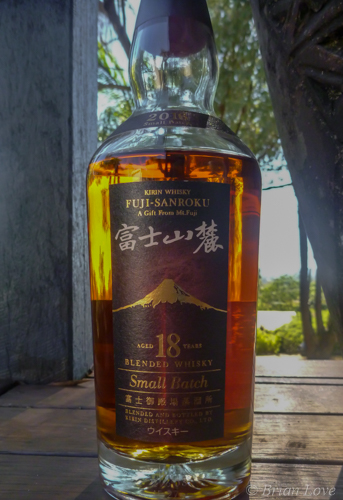 Nose: Toffee, brown sugar, orange slices, wood chips, rye spice, pineapple, passion fruit, apricot jam.
Palate: Orange reminiscent of a bourbon such as Woodford Reserve. Rye spice, nutmeg, cloves, apricot jam, pineapple, wood shavings, passion fruit. Water adds some sherbet filled lemon candy.
Finish: Very well controlled wood for the age. Rye spice, smooth bourbon, passion fruit, pineapple and apricot jam.
Last Word: Very much in the Kirin house style. A bourbonesque style of whisky which makes sense as I have been told by more than one source in Japan that the Master Blender at Kirin has a penchant for American Whiskey. For myself this is smooth, well balanced, interesting and tasty. As per usual these day's, very hard to find even in Japan.
Rating: 88/100