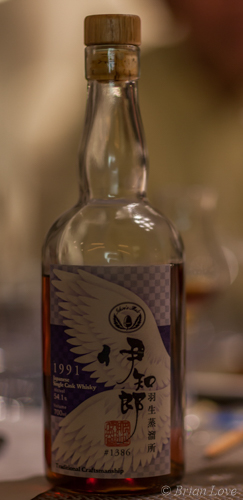 Nose: Earthy field mushrooms, creosote, licorice, apricots, furniture polish, fermented orange slices, a touch of brine. Water adds some pear and white flowers.
Palate: Candied orange slices, creosote, Brazil nuts, olive oil, salt, nutmeg, ginger cubes. Almost no woodiness after 23 years in an oak barrel. Water adds some menthol, almonds and nougat.
Finish: Over baked scones, ginger cubes, creosote, earthy, powder like cocoa powder but without the cocoa taste and the nougat with some water added.
Last Word: Not your typical Madeira cask matured whisky, less fruity/winey for sure. A really nice experience and while not cheap to buy, a lot cheaper than a Card Series Hanyu of the same vintage.
Rating: 88/100