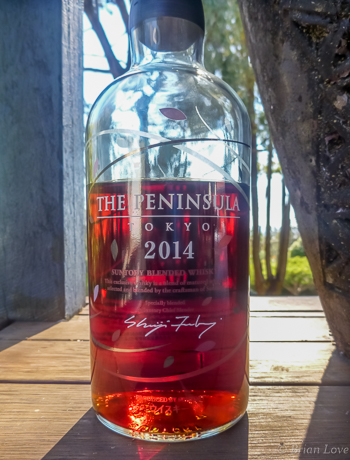 Nose: At 43%abv it's no heavy hitter but elegant and complex. Dark cherries, roasted chestnuts, raisins, vanilla, Valencia oranges, nutmeg, red grapes, a waxy note, Cherry Ripes, subtle oak, brandy snaps.
Palate: Faithfully follow's the nose for the most part but the oak is definitely firmer. There is also cloves and old leather. Water brings out sultana's, mint milk chocolate, red berries and cocoa powder. The fruit flavors are nice and juicy.
Finish: Medium length on mint milk chocolate, menthol, nutmeg, oak and cocoa.
Last Word: High quality and classy blend with classic Suntory Sherry Cask matured whisky elements wrapped up in a elegant package. I'll add that in reality much darker in color than the photo which is heavily backlit.
Rating: 92/100