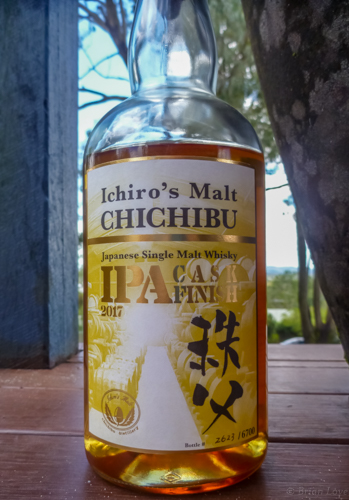 Nose: The IPA cask influence shows it's hand straight off the bat. Some maltiness and very hoppy/fruity. There is a dustiness like dust covered old oak barrels. Orange peel, peach skin and yeast. Incense which grows stronger with water.
Palate: Lots of malt and hops. Some big hot spices. The dry dustiness, orange peel on the verge of going moldy, sugared grapefruit. Water adds salt, lemon zest and citrus tart. For mine water is a must with this whisky to subdue the hot spices which are a little out of balance and to add some nuance.
Finish: Fairly short on the malt and hoppy/fruity flavors.
Last Word: The casks first contain Chichibu whisky, then refilled with IPA beer from a number of different IPA craft breweries before being refilled with Chichibu whisky for finishing.
The Chichibu quality is there but the final product is extremely cask forward in profile and for my tastes maybe a little too much so. Almost like a novelty whisky.
Rating: 85/100