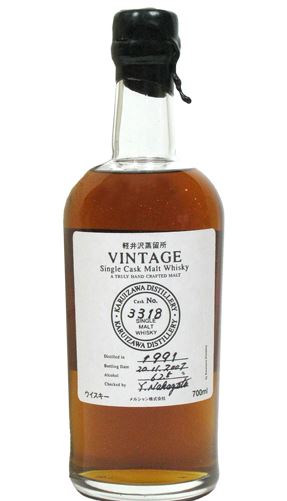 Nose: Notes of toasted oak, toffee, dry earth, steel, mild wood stain, cloves and dried papaya. Can't say it's particularly bold or expressive and the sherry influence is non existent to my nose. Color is orange rather than the dark cherry you will see in many sherry cask matured whiskies. Very mild at 62.5%abv.
Palate: 62.5% certainly reveals itself on the palate. For a moment there's quite some juicy fruit flavors though more like you would get in fruit candies/lollies. After that hotter elements like chili take over though they also fade fast followed by the earthy flavor, also dried pears and papaya, nutmeg, roasted chestnut and Manuka honey. Adding water actually brings the hotter elements forward in the mix and they also hang on longer so not recommended for my palate.
Finish: Metallic minerals, peanut butter and a charred element. Fades quickly.
Last Word: It's Ok but certainly would not buy it at current prices. Also, where's the sherry influence!? Would take a bottle of Nikka WFTB over this any day.
Rating: 81/100