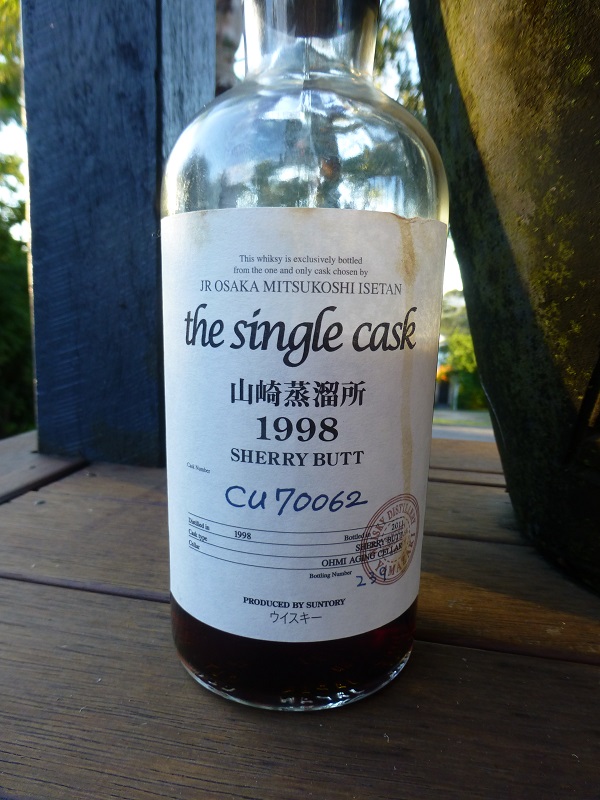 Nose: Beautifully rich, classic Yamazaki dark sherry. Leads with a bucket load of raisins. Blackberry conserve, ginger spice, stew rhubarb, balsamic, dark honey. Dark chocolate, oyster sauce, caramelised orange jus, sherry soaked oak. No harshness even at 61%.
Palate: Massive concentration of dried fruits, raisins, currents, papaya. Big salt, fresh ginger heat, black plums, toasted oak, some red wine like tannins. Water brings out leather, nutmeg, cocoa, blood oranges and ups the tannins.
Finish: Long and juicy. With water raisins, nutmeg, cocoa, oyster sauce, balsamic, menthol, almonds, dark chocolate and the drying tannins. Prefer this with only a few drops of water at the most.
Last Word: Color as black as ink in the bottle and as resolved as a good 18YO. Big, bold and beautiful. What a cask selection. Pays to be located only 25 minutes from the distillery me thinks. Not to be confused with cask #CU 70067 found at Isetan/s in Tokyo. 70062 is superior across the board.
Rating: 92/100