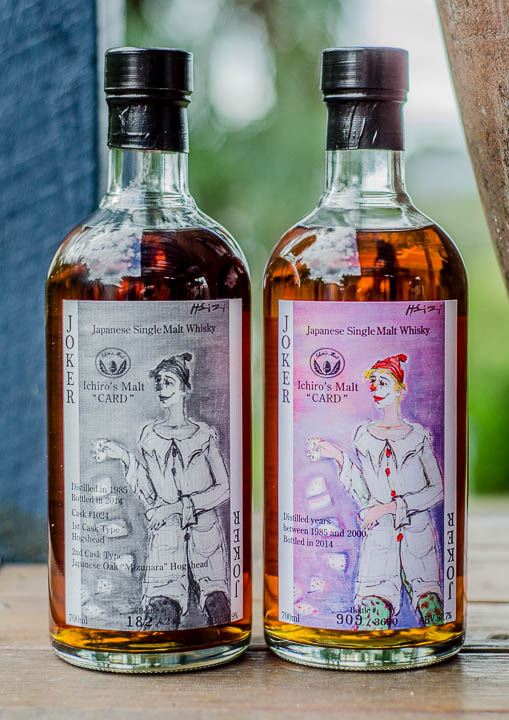 Well in the flesh at Casa Dramtastic. Most readers would have seen some release images of these. I'll go out on a limb and say this is the first time both of these have been shown to the general public by someone who now owns them. No need to go into any of the particulars of these bottling's as you can read about that over at Whiskies R Us. My thoughts are around what it's like to finally have these babies in my grateful hands.
First thing, is that I had my order in for over a year. Of course I didn't now when the release would be but I knew I had to be ahead of the game to even have a chance. Nothing is set in stone either, some retailers will/have received an allocation, many won't. I was lucky enough to be in contact with someone who did and who generously kept me in mind for one of each label. For me this is going to be hard to beat for Japanese whisky release of the year for a number of reasons. It is, as far as I know, the end of the Ichiro's card series. No more cards or derivatives of playing card games up Akuto-sans sleeve so to speak. Also, the black and white labeled bottling of the Joker is now officially the oldest Hanyu released to date and the fact that it was finished in a Mizunara oak cask at that. No doubt a deliberate choice for a whisky of such significance. Finally, the colour label version of the Joker would seem to be the most ambitious vatting of different cask types of Hanyu yet.
In the photo, the whisky in the B&W Joker looks darker. This is not a trick of the light or angle of the photo, it is darker than the colour Joker. Could be because the colour Joker has some younger whisky in the mix, could be it's a vatting of different cask types, could be a combination of both or none of the above. They both sure look tasty!
Now for the problem. The colour Joker I purchased for Y12777. In under a week these were already selling in Japan on the resale market for 5 times that price. I have not seen a bottle of the B&W Joker being resold yet, but heaven only knows what they will fetch when they do. That then put these in the, I can only dream of owning one these category for most whisky fans. Supply and demand can be a real bitch sometimes!
So, what am I going to do with mine? Stare at them un-opened for a while for a starters. The B&W will then be put away with the rest of my closed bottles. It's such a wonderful piece of history that it will be a long time before it is opened. The colour label Joker, I guess I'll crack that on a whim someday…….