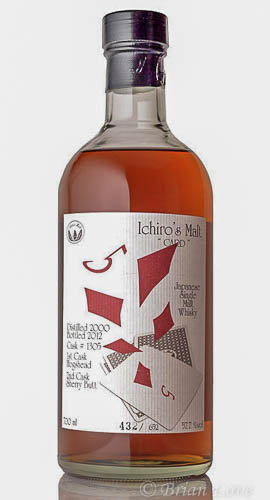 Nose: Subtle sherry influence or more to the point, not a full blown sherry cask single malt. Quite yeasty not unlike homemade whole meal bread. Raisins, 5 spice, oak, pepper, golden syrup, barley, bran.
Palate: Volume(think loudness) goes up a fair whack compared to the nose. Golden syrup, honey, peanuts, apricots, raisins, cloves, melted butter, oak, 5 spice, salt and fresh ginger heat. A little water adds marzipan.
Finish: Medium length on golden syrup, cloves, caramelized orange slices, 5 spice. Something odd but not awful like devilled eggs(well if you like them). Drying oak.
Last Word: Nice balance between the first cask, hogshead, and the second cask, sherry. A touch of water doesn't go astray. This one grew on me over the coarse of the tasting. Not a hint of sulphur and very nice at only 12 years old.
Rating: 86/100
*Note: Sample courtesy of Clint at Whiskies R Us.