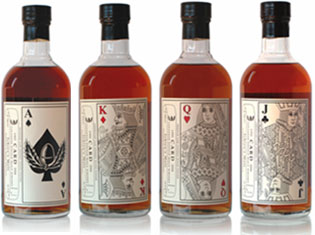 Well the catalogue is out for Bonham's Hong Kong auction on August the 28th 2015. Masses of Japanese whisky on offer but the highlight would have to be an entire Ichiro's Malt Card Series being sold as one lot. I say entire but to my mind the collection is not complete. There were 2 bottling's of the Ace of Spades and this collection has only one of them. Yes they were from the same cask but the release was staggered, one bottling being 55%abv and one being 55.7%abv. Obviously this also means one spent a little longer in the cask so is a bit older in whisky terms and as it was aged in oak the profile will be slightly different. Also I believe the auction catalogue for the bottling of the Ace of Spades being sold contains an error. They say it is the bottling 113 of 300 but this should have an ABV of 55.7% not the 55% listed in the catalogue. The first series of 122 bottles(in total) was the 55% version.
The catalogue estimate, HK$ 1.8 million – 2.4 million = USD$232,000 – $310,000
Gulp, not to shabby for a collection of whiskies that if you paid retail would not have cost more than USD10,000 in total. The cheapest bottling was about 60 bucks and I paid about 350 bucks for the most expensive, the Joker Monochrome. Also hard to believe is that this upswing in value happened in less than 10 years.
***Note: I have already been updated and I apologize for any discrepancies in my original post but the are 4 double cards in the series. Ultimately this extends to the fact that the series for sale is not complete. Thanks to Ulf Buxrud for the clarification.
Ichiro's Malt Full Card Series