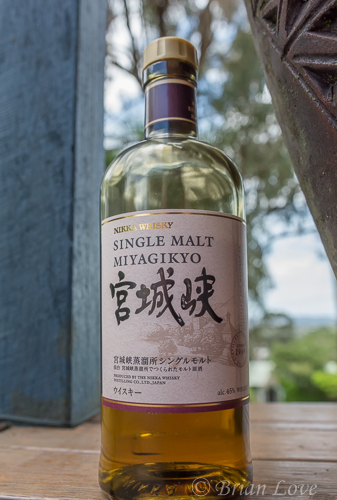 Nose: Barley sugars, red apples, dried pears, lemon pie, nougat, apricots, subtle wild flowers.
Palate: Lemon sherbet, barley sugars, dried pears, oak, nougat, macadamia nuts, marzipan, white pepper, spearmint, a little smoke and ash.
Finish: Nougat, macadamia nuts, barley, oak, ash, mineralized water.
Last Word: This is a smooth and subtle style of whisky with enough quality and complexity for the price point in Japan. Nice summer sipper. As this will be the main single malt offering from Miyagikyo for a number of years to come I hope they will tweak the make up from time to time to give us some variety. I have open bottles of both the 12 and 15 year olds and they are definitely bolder and more complex whiskies.
Rating: 84/100