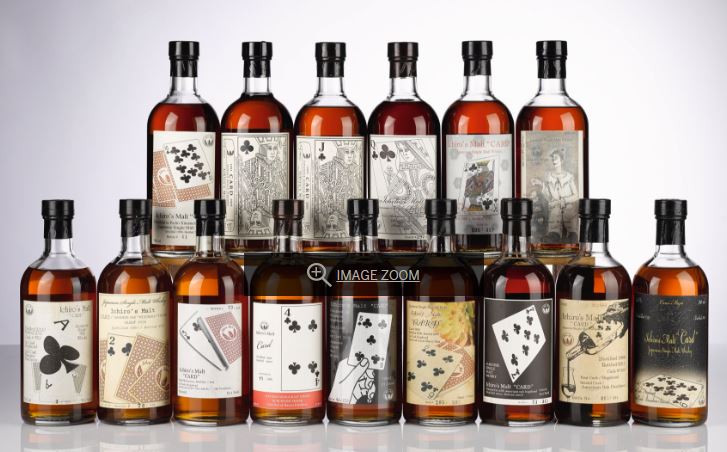 Offered for sale for the first time is a full set of 58 bottles of Ichiro's Malt Card Series as part of Sotheby's Hong Kong Finest and Rarest Wine Auction this Friday and Saturday 29-30th of September.
For those who are trying to figure out how a deck of cards is 58 it's not. Just so happens that back in the day Ichiro Akuto bottled and sold a about a quarter of the whisky from 4 different single casks then later bottled and sold the rest of the whisky from these casks. The casks used became the Ace of Spades, the Queen of Hearts, the King of Diamonds and the Jack of Clubs hence double bottling's of these cards and the total number in the series as 58.
Price guide for the full set of Ichiro's Malt Card Series is from a ridiculously low US$256,000 to US$512,000.
As a set of 54 cards without the 4 doubles sold at auction a couple of years ago for US480,000 I personally expect the upper range of the price guide to not only be reached but exceeded.
So if your a wealthy whisky collector here is a rare opportunity, for the rest of us we have a few days to win the lottery.
**Update: Lot sold for US$455,000 so it seems prices have stabilized or even declined a little.