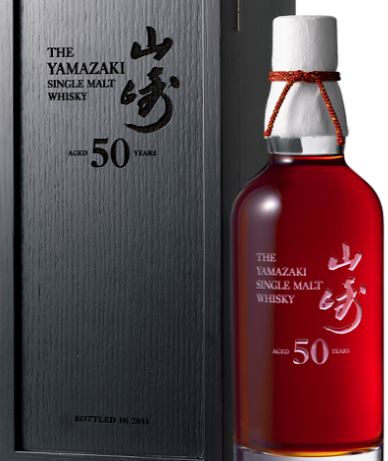 If you missed it a bottle of Yamazaki 50 Year Old Single Malt Whisky sold for a record price at Auction on January 30 for US$299,000. The auction was held by Sotheby's Hong Kong. The previous record for a single bottle of Japanese whisky was also held by a bottle of Yamazaki 50YO sold at auction in October 2016 for US$129,000. After having followed the whisky auction scene for a while I can safely say it if you want absolute top dollar, Hong Kong is the place to sell. It is certainly bolstered by the burgeoning Asian whisky scene. The problem I found however was that when I approached a certain auction house in HK to sell some of my whisky they did not accept consignments from outside of HK. The whisky had to already be in country. Not sure if this is the same for all the auction houses in HK.
When first released in 2011 the bottle price was around US$9,200 which although it looks like a bargain now, lets face it, this was a bottle for the wealthy from the get go.
There were a couple of bars in Japan back in 2011 where you could try this for Yen 90,000 a shot or about US$850.
For years now a number of people on various whisky forums have speculated about the demise of Japanese Whisky. Just a fad, too overpriced(maybe it is but it hasn't diminished it's rise) and for a number of narrow minded people if it isn't made in Scotland it can't be whisky or at least not good whisky.
Japanese whisky has proved to be resilient on the pricing front and it's popularity has gone from strength to strength.
*Note: We may have seen some marginal average price drops on bottling's from the likes of Hanyu and Karuizawa over the last year but this is normal when the number of different bottling's have increased. Prices of the most prized bottling's are still on the up.