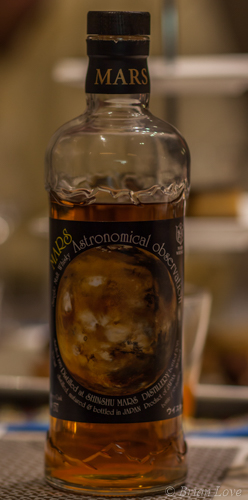 Nose: If it did not say Sherry Cask on the label I would not pick this as a sherry cask matured whisky. Vanilla, toasted oak, grapefruit, orange zest, maple syrup on toasted crumpets, apple sauce. With water added a floral note and white peach emerge.
Palate: Heavy hit of spices that is pretty overwhelming. Ginger, pepper, chili. Baked apples, grapefruit, Brazil nuts. Really needs a large splash of H2O to quell the spicy fire but when added there is some lychee, coconut and nougat.
Finish: Ginger, Brazil nuts, slightly burnt apple pie, nougat and drying oak.
Last Word: Quite the oddity as it is not like any other sherry cask matured whisky I've tasted whether from Scotland, Japan or the Mars Distillery itself. Not an unpleasant dram when watered down but not a favorite especially when compared with the many great sherry cask whiskies I've tried. Long way to go to the end of the bottle so we will see how it develops.
Rating: 83/100